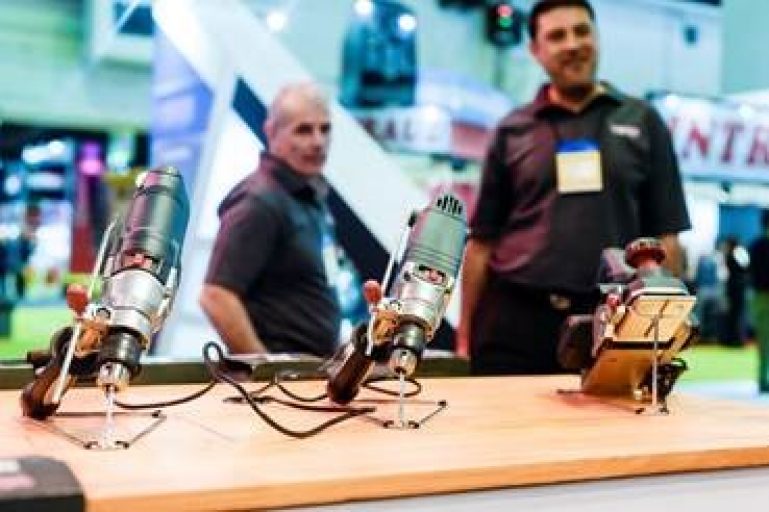 We are two months ahead of ExpoFerretera, the 15th International Hardware, Plumbing Parts, Paint and Construction Material Trade Fair and the companies start to draft their proposals. 
This is the case of Herramientas Equus that will present a wall fluter with diamond triple disc; the new line of wireless drills and hammer drill with exchangeable lithium batteries and all the line specialized in dry construction, in which two aspiration sanders models outstand: multiuse scaffolding that is assembled without tools and plaster plate elevators. 
"Our expectations are quite high. We hope to get a higher diffusion of the brand", said Luis José Quinteros, Manager of Herramientas Equus. And he adds: "ExpoFerretera is very important because it is the kick of our opening as suppliers of the hardware industry in the country. It is essential to become known and create links with hardware channels." 
On the other hand, Balbico will exhibit a summary of the more than 6,000 items and hardware tools that they distribute and import, as well as the new projects of the brand redesign. 
David Rosenfeld, Manager of Commercial Development, highlights that ExpoFerretera "is a time to strengthen the link with our customers, suppliers and friends of the industry. And the chosen channel to present our projects, products and innovations". 
Meanwhile, Eng. Alejandro Stumpo, Commercial Manager of Casa Fenk S.A.C.I.F.I., states that "it is very important to take part in ExpoFerretera because there we have the chance of meeting our customers and generate new ones, do business, keep our presence and launch our alternative energies referent line". The same is aimed to several kinds of users, from small home users to solar parks, such as: panels, inverters, load regulators and batteries. 
On its part, Total Luz S.A.  – Werke will offer LED technology lighting items: LED 12 VOLT 20W, 30W, 50W projectors; LED 12 VOLT 18W lamps; LED USB 5W 12 VOLT lamps and E27 12 VOLT lamp holders. In turn, it will present a tool to access the online catalogue of products and stock in real time. 
"We are a young company in constant growth. We believe that ExpoFerretera is the ideal framework for the business we need to do", states Ariel Eduardo Hernández, President of the firm. 
The first time it participates, Kee & Go S.A. finds in ExpoFerretera the suitable framework to "strengthen the relationship with customers and suppliers and to boost the products we offer in the hardware sector", states Yazmin Ambrosio, Marketing Manager. And he adds: "we wish to show all our line of Stanley products to hardware shops and users". Within it you will find: weed cutters; chainsaws; generators; professional and car vacuum cleaners; aluminum and dielectric ladders; carts; platforms; welders; garden manual tools and Stanley PMI flasks. In time, it will launch the Stanley explosion lawn mower. 
The 15th International Hardware, Plumbing Parts, Paint and Construction Material Trade Fair will take place on August 28-31 in Costa Salguero Center of Buenos Aires, Argentina. Registrations are available in www.expoferretera.com.ar 
The exhibition is only for businessmen and professionals of the sector.  With an invitation: free of charge. Children under 14 years will not be admitted, even if they are accompanied by an adult. Baby strollers are allowed.
Further information:
www.expoferretera.com.ar
Press information and photographic material:
https://expoferretera.ar.messefrankfurt.com/buenosaires/en/prensa.html
Links to websites:
www.facebook.com/ExpoFerreteraAR | www.twitter.com/ExpoFerreteraAR | www.instagram.com/expoferreteraar

Background information on Messe Frankfurt
Messe Frankfurt is the world's largest trade fair, congress and event organiser with its own exhibition grounds. With more than 2,500 employees at 30 locations, the company generates annual sales of around €718 million. We have close ties with our industry sectors and serve our customers' business interests efficiently within the framework of our Fairs & Events, Locations and Services business fields. One of the Group's key USPs is its closely knit global sales network, which extends throughout the world. Our comprehensive range of services – both onsite and online – ensures that customers worldwide enjoy consistently high quality and flexibility when planning, organising and running their events. The wide range of services includes renting exhibition grounds, trade fair construction and marketing, personnel and food services. Headquartered in Frankfurt am Main, the company is owned by the City of Frankfurt (60 percent) and the State of Hesse (40 percent).
For more information, please visit our website at: www.messefrankfurt.com.
Background information on Messe Frankfurt Argentina
Messe Frankfurt Argentina is the affiliate of the worldwide trade fair organization leader. The purpose of the fairs is to promote actual business meetings to boost activity in regional markets, in the domestic market and in turn prompt the development of the technological pole in each area. The current portfolio of shows of Messe Frankfurt Argentina includes the following exhibitions: Automechanika Buenos Aires, BIEL Light + Building Buenos Aires, Confemaq, Emitex, ExpoCehap, ExpoFerretera, ExpoMant, Moto Show, Intersec Buenos Aires, Simatex, Tecno Fidta. In addition to numerous congresses and special events for third party, such as Argentina Oil & Gas Expo Buenos Aires, Argentina Oil and Gas Expo Patagonia, Arminera and Electronics Home, among others.
For more information, please visit our website at www.argentina.messefrankfurt.com