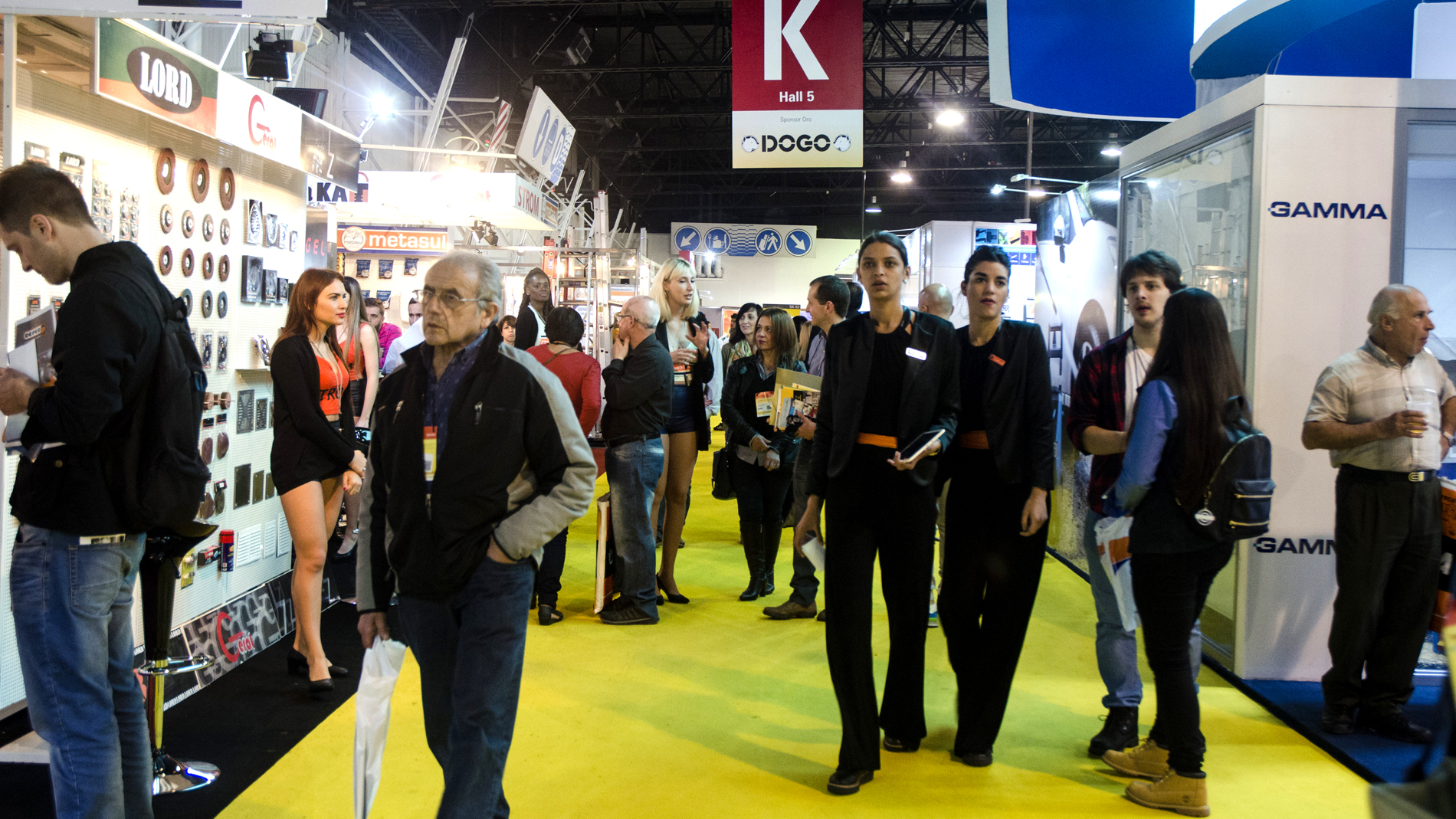 ExpoFerretera is a wonderful opportunity to meet face to face with colleagues and clients, get in touch with other exhibitors and promote your brand in front of a qualified audience. Following all COVID-19 safety protocols required by local and national authorities, the participants will enjoy a space reflecting the industry's great diversification.
Just as hardware shopkeepers are honored every September 3 in Argentina, ExpoFerretera offers these indispensable experts the opportunity to stay up to date with news and trends in their market, helping them better answer their neighbors' questions or requirements about home, industry, or construction-related activities. This is how exhibiting companies such as Kleber, which during 2021 kept searching for innovative products that improve the users' work, see it.
"A new anniversary of the hardware store sector has arrived, and in this opportunity we can make two readings," said Mr. Sergio Angiulli, President of CAFARA. "On one hand, how crucial the sector is. And on the other, the importance of having a space for business and meetings such as ExpoFerretera, where personalized attention is our sector's differential value."
"On this occasion," said Project Manager Ezequiel Gorbarán, "and like every two years, the sector's entire value chain will be represented at ExpoFerretera. Trade fairs and business events are key when it comes to contacting colleagues and meeting face to face with current and potential clients. And this year will not be the exception."
"Although, since its inception, Fierromec has had commercial ExpoFerretera International Hardware, Plumbing Parts, Paint and Construction Materials Trade Fair Costa Salguero Center Buenos Aires, December 1 – 4, 2021 Page 2 relationships with companies in the sector, we think that there is a large market in which we can work and the trade fair is a good venue for this purpose," said Ms. Alejandra Budassi, Fierromec Sales Manager. 
ExpoFerretera is the sector's foremost event in South America, showing the latest advances in construction products and machinery for home or industrial use. That is why exhibiting companies—such as Barbuy Team, e-SOPORTER and Gasatex, who have already prepared exhibition-exclusive product launches— have already began designing their promotions and proposals. 
Grupo Rumbo is another firm that will be present in the Costa Salguero hallways. According to Silvana Florencia Rumbo, Manager of the Department of Communication, Design and Marketing, for this edition the company hopes to be closer to their clients, communicating tranquility, trust, and resilience. "We want to convey that, despite external agents that none of us can avoid, Grupo Rumbo always adapts to change. We believe that the exhibition is an excellent means to relate and connect with potential clients, and strengthen the ties with current ones." 
According to Ms. Julieta Peiteado, Marketing Supervisor of El Galgo, ExpoFerretera will better position their brand and will help them keep expanding their market leadership throughout the country. 
To celebrate a new Hardware Shopkeeper's Day, nothing better than to register for the event that will, for 4 days and in one place, bring together and reconnect the sector's main players: from December 1 to 4, 2021 at the Costa Salguero Center in Buenos Aires, Argentina.
The exhibition is only for businessmen and professionals of the sector. With an invitation: free of charge.
To be accredited at the event, you must present your ID or passport. 
Further information: www.expoferretera.com.ar
Press information and photographic material here
Social Media:
Facebook I Twitter | Instagram | LinkedIn

Background information on Messe Frankfurt

Messe Frankfurt is the world's largest trade fair, congress and event organiser with its own exhibition grounds. The Messe Frankfurt Group employs around 2,500* people in a total of 30 subsidiaries. The company generated annual sales of approximately €250* million in 2020 after having recorded sales of €738 million the previous year. Even in difficult times caused by the coronavirus pandemic, we are globally networked with our industry sectors. We have close ties with our industry sectors and serve our customers' business interests efficiently within the framework of our Fairs & Events, Locations and Services business ExpoFerretera International Hardware, Plumbing Parts, Paint and Construction Materials Trade Fair Costa Salguero Center Buenos Aires, December 1 – 4, 2021 Page 3 fields. One of the Group's key USPs is its closely knit global sales network, which extends throughout the world. Our comprehensive range of services – both onsite and online – ensures that customers worldwide enjoy consistently high quality and flexibility when planning, organising and running their events. We are expanding our digital expertise with new business models. The wide range of services includes renting exhibition grounds, trade fair construction and marketing, personnel and food services. Headquartered in Frankfurt am Main, the company is owned by the City of Frankfurt (60 percent) and the State of Hesse (40 percent). For more information, please visit our website at: www.messefrankfurt.com
* preliminary figures 2020
Background information on Messe Frankfurt Argentina

Messe Frankfurt Argentina is the affiliate of the worldwide trade fair organization leader. The purpose of the fairs is to promote actual business meetings to boost activity in regional markets, in the domestic market and in turn prompt the development of the technological pole in each area. The current portfolio of shows of Messe Frankfurt Argentina includes the following exhibitions: Automechanika Buenos Aires, BIEL Light + Building Buenos Aires, Busworld Latin America, Confemaq, Emitex, ExpoCehap, ExpoFerretera, ExpoMant, Salón Moto, Intersec Buenos Aires, Simatex, Tecno Fidta. In addition to numerous congresses and special events for third party, such as Argentina Oil & Gas Expo Buenos Aires, Argentina Oil and Gas Expo Patagonia and Arminera, among others.
For more information, please visit our website at www.argentina.messefrankfurt.co